Mission
With kindness and compassion, we prepare the hearts, minds and bodies of our students to thrive through a Catholic/Jesuit education.
History
In 1994, the Wisconsin Province asked local Jesuits to begin looking at ways to establish a presence in North Omaha.   To find out how the Jesuits could best serve the community, a group led by the late Fr. Jim Michalski S.J. began interviewing ministers, community leaders, and residents.  Five months later, after over 100 interviews, the group found that community members desired a school for their young men - one that prepared them for a college preparatory curriculum, instilled discipline, and deepened their faith.  That idea became the Jesuit Middle School of Omaha (now Jesuit Academy).
Construction on the school began in March 1996 at the site of the former North Omaha Butler-Gast YMCA on North 22nd Street.  The first students arrived in August of 1996.  Fr. Jim became the school's first president and Kathy Trotter was hired as the principal.  Longtime educator, Bobby "Mac" McCallister was hired as the 4th grade teacher to lead 17 students.  Additional staff included Brother Mike Wilmot S.J. and computer teacher Ed Butler.  During the course of the year, an additional wing was built to house the future grades.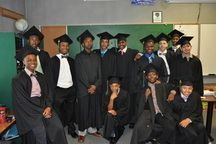 The first group of fourth graders graduated from Jesuit in 2001 and went on to attend high schools throughout the city.  Four years later they started a trend of success that continues today.  As of 2019, 99% of Jesuit graduates have earned their high school diploma.  As Jesuit enters its third decade of operation, the school continues to grow and the success of our graduates expands.  In 2014, construction on the Jesuit summer camp, in conjunction with the Boys and Girls Club of the Midlands, was completed.  Students began attending the summer session there in July 2015.  In 2018, the school purchased the lots across the street with an eye toward the future.

In the summer of 2020, Phase 1 of a renovation of the building began. Where through research and data driven testing, 8 classrooms were renovated. Bringing the school to a state of the art institution with active furniture and cutting edge technology in each classroom.