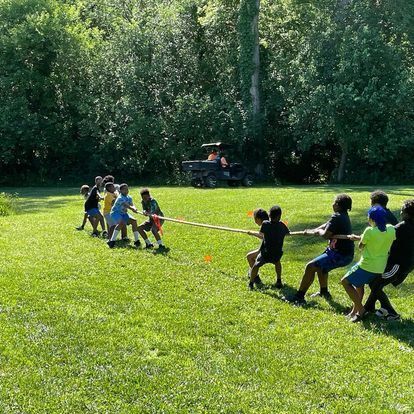 Did you know that Jesuit Academy has a camp building on the Boys & Girls Club campus in Carter Lake, Iowa? Known as Camp Nakomis, our students and staff utilize the space during the summer as well as throughout the year! Teachers can give their students time outside the classroom for learning in nature or just for a change of scenery. Staff utilize the building for quarterly retreats and meetings.
Our students spent three weeks soaking in the sunshine, learning, spending time outdoors, and bonding with brothers who will be there for one another as they move through their time here at Jesuit Academy and beyond. The Jesuit Nativity school model is unique in its approach to faith-based education and helping those in underserved communities across the country. This model includes an extended year calendar, and we partake by requiring our young students to make a commitment upon enrollment to attend summer camp each year. This extra time during the summer enables students to focus on specific academic areas that many tend to fall behind in when on break, and it allows them the opportunity to bond with new students who they'll be spending their days with in the upcoming school year.
Collaboration between seven faculty members resulted in engaging lessons and projects for the 77 young men in attendance. During the first half of each day, students focused diligently on their studies. Their hard work was then rewarded throughout the afternoon partaking in leisurely activities such as basketball, tug-of-war, swimming, archery, and so much more.