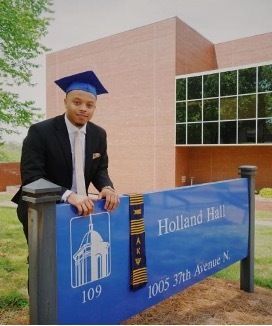 For Jesuit Academy alumni, the transformation from 4th grade newcomers to 8th grade graduates is often quite dramatic, and this certainly rings true for Will Worthington III. In a recent conversation, Will shared his gratitude for Jesuit Academy. "My time at Jesuit really prepared me for everything that was to come," he said. "The school provided a foundation and I was able to really embrace the brotherhood and accelerate my learning, which really influenced where I am today."
Will began his high school journey at Creighton Prep and later transferred to Omaha Bryan, where he was a standout student-athlete, excelling in the classroom and on the court. Following his graduation from Bryan in 2018, he attended Tennessee State University, a historically black college in the heart of Nashville, Tennessee and earned a bachelor's degree in Business Administration and Management in the spring of 2022. As a proud alum of TSU, he joins the ranks of some very notable and distinguished alumni, including: inventor Jesse Russell, John Hopkins cardiac surgeon Dr. Levi Watkins, Alabama Supreme Court Justice Ralph DeCook, Olympic gold medalist Wilma Rudolph, and media mogul Oprah Winfrey.
While at TSU, Will was selected for the prestigious Thurgood Marshall College Fund's College Leadership Initiative, whose mission is to ensure student success by promoting educational excellence and preparing the next generation of workforce talent through leadership development. This opportunity led him to Boeing, the world's largest aerospace company and leading manufacturer of commercial jetliners, defense, space and security systems, and global services. Will participated in a summer internship as a Boeing Scholar and, upon graduation, was offered a position in Boeing's Business Skills Rotation Program (BSRP), where, over three years, he will be exposed to various business functions and in-depth assignments designed to build strong business skills. Will recently began his first assignment as a cost scheduler, providing financial analysis at Boeing's facility in Philadelphia, PA. He is excited about the opportunity, and said, "I'm looking forward to being exposed to many different areas within our business through the various rotations."
In addition to his role at Boeing, Will also has an eye toward giving back to his hometown. He will serve as president of a non-profit that he and his mother are currently developing, called Life Changing Resource Center. The organization will aim to positively impact the community and provide critical resources to those in need.
Always ready to lend a helping hand or words of inspiration, Will's advice to Jesuit students beginning to think about their future: "Get to know yourself through your passion and purpose and realize that anything is possible."