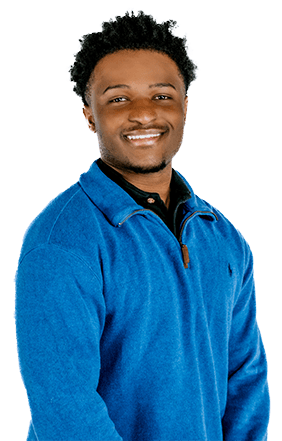 In any given year, 80-100 alumni will walk back through the doors of Jesuit Academy to attend an alumni event or school activity, say hello to staff, or more importantly, to share experiences, provide opportunities, and offer advice to younger students following in their footsteps. The dedication, gratitude, and loyalty of our Jesuit alumni is truly remarkable, and this quarter's highlight is no exception.
Tyler graduated from JA in 2014 and attended Creighton Prep. Following his graduation from Prep in 2018, Tyler made the decision to study business at Grand Canyon University in Phoenix, AZ. Never shy about setting goals and pursuing them enthusiastically, Tyler earned his bachelor's degree in Finance and Marketing in only three years and has returned to Omaha where he works as a Jr. Business Analyst for Charles Drew Health Center. In addition to his impressive academic and professional achievements, Tyler epitomizes the dedication, gratitude, and loyalty of our Jesuit alumni. In a recent conversation, he reflected on his summers volunteering as a camp counselor at Jesuit's summer camp and taking advantage of local and regional leadership opportunities.
One opportunity that caught Tyler's attention was through Launch Leadership, a Lincoln-based non-profit focused on empowering middle and high school students to develop leadership skills and make positive changes in their schools and communities. For the past five summers, Tyler has volunteered as a co-op leader during Launch's Summer Workshops at Doane University.
Prior to that, he attended as a student for three consecutive summers and attributes much of his early success to lessons learned through that experience, namely his ability to understand himself, those around him, and how to maximize his impact as a young leader.
In the spirit of giving back, Tyler reached out last spring and asked if he could stop by Jesuit Academy to chat with a group of incoming 8th grade students. During his visit, he shared his personal experience with Launch and invited each student to apply for the program. With his encouragement, several 8th grade students expressed interest in the leadership camp; three young men attended the camp in June and had amazing experiences based on his suggestion.
Winston S. Churchill once said, "We make a living by what we get. We make a life by what we give." Tyler's act of gratitude is a testament to how much he cares about the experience and education of Jesuit students who come after him. His academic and professional accomplishments and strength of character make him an alumnus to celebrate. Thank you, Tyler, and congratulations!