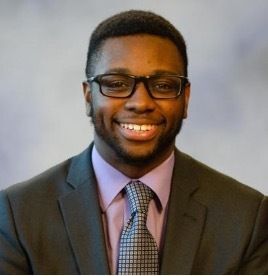 Of all the memories Struje Robinson, JA class of 2011, collected during his time at Jesuit Academy, his favorites include attending summer camp and participating in other all-school activities with his fellow classmates. But Struje's memories of Jesuit started years before he was enrolled as a 4th grader; his father was a member of the original JA teaching staff, and his older brother, James, graduated in 2006.
With such a firm foundation, it was no surprise that, after graduating from Northwest High School in 2015, Struje headed to Nebraska Wesleyan University in Lincoln to major in education. During his time at NWU, he excelled in the classroom and as a student athlete, representing the Prairie Wolves as a member of the Cross Country and Track & Field teams. He earned his bachelor's degree in Health and Physical Education with a minor in coaching in 2020. He is currently working as a PE teacher at Meadow Lane Elementary and is in his third year as an assistant coach for the NWU women's basketball team.
Struje attended our annual Alumni Night in April and marveled at the number of alumni who returned for the tradition. He said it reminded him of his time as a student and loved being able to connect with so many of his classmates. The Jesuit brotherhood and comradery was a defining aspect of Struje's educational experience and a major reason why he ultimately chose to become a teacher and a coach. Following the alumni event, Struje was asked what advice he would give to our future 8th grade leaders. He said, "I would tell them to set goals and have high expectations for yourself. Be you, don't follow the crowd and never try to fit in. Have fun, always be kind, respectful and make sure to help your fellow classmates out."
On this trip down memory lane, Struje also spoke about some struggles on his path to becoming an educator and admitted there were times he wanted to give up. "I had to dig really deep and find that grit. I was able to rely on the support of family, friends, and my entire network of people. They really helped me push past the hardships."
While Struje loves his job and doesn't see any changes on the horizon, he one day sees himself becoming an Athletic Director. In the meantime, he is considering returning to school soon for his master's degree in Sports Management and Administration.